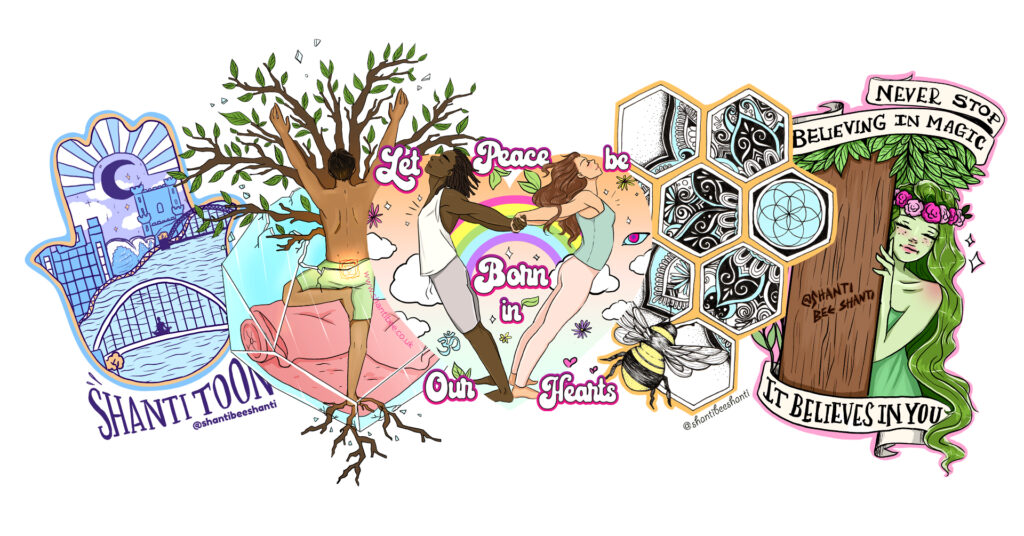 We wanted to express a little more Shanti. Get our love for all things magical and our pursuit for spiritual connections on something we could all keep close. What better means than a sticker? Who doesn't love a sticker?!

Working with local artist Laura Moon, originally from Tynemouth we came up with these beautiful creations.
You can check out all of Laura's art on her website https://lauramoon.co.uk/ . Can't thank her enough for seeing our vision and illustrating it so beautifully.

All of the profits raised from these stickers will go directly back into the aims of the centre. Currently we have a roof that needs repairing before winter sets in and so the profits will help with that.
Two of these stickers are limited edition – once they are gone, they are gone! There are 200 sheets of the BLM and Yogi on a Screen, get them before they are gone!
All sticker sheets are A5.
Thanks so much for your interest. We hope you love them as much as we do.
We are a teeny team and so please allow up to seven days for the stickers to arrive.