Hey! Thank you so much for your interest in our Shanti Hibernation Project. We hope we can support you in your well being.
Shanti Bee, Yoga Studio and Well Being Centre in Byker is running Shanti Hibernation, a month long online project offering a series of free well being activities starting March 3rd.

The not for profit company offers well being services including yoga, massage services and retreat workshops, on a sliding scale with profits funding a community scheme for those with chronic mental or physical health conditions or facing financial barriers.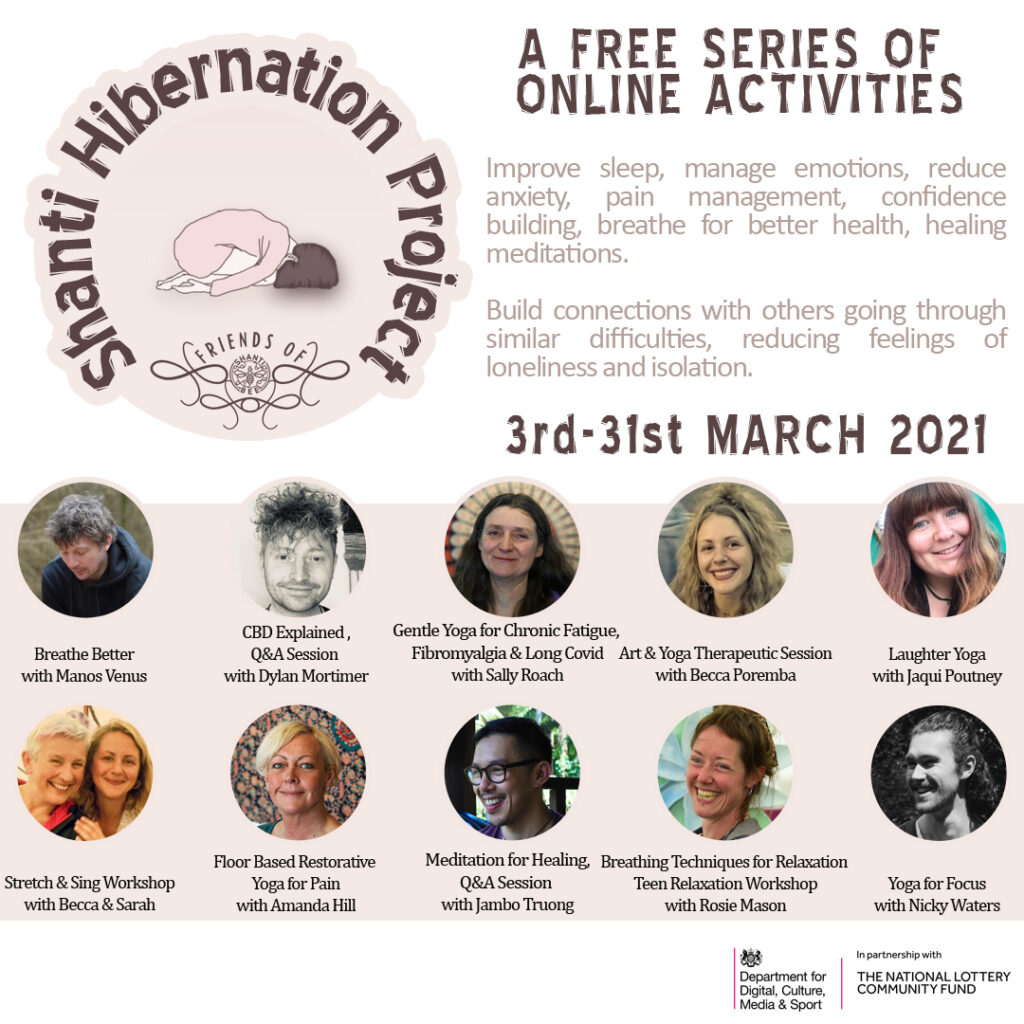 The activities, funded by the Department of Culture, Media and Sport and distributed by The National Lottery Community Fund, will offer holistic health activities to support both emotional and physical wellness, with guidance to complete an equal amount of each. There will be short four-week courses, one-off workshops and bite-size health advice, all available through the community health scheme, Friends of Shanti Bee.
The funding was made available through the Local Connections Fund, a new £4 million fund set up by The National Lottery Community Fund and the Department of Culture, Media and Sport to help charities and community groups in England that are working to reduce loneliness by helping them build connections across their communities.

Activities run by specialised health practitioners will support strength building, improved fitness, improved sleep, help cope with managing emotions, reduce anxiety and help with pain management.

Rosie, Shanti Bee's Director, said "The activities on offer will support confidence building, while offering a platform to build connections with others going through similar difficulties, reducing feelings of loneliness and isolation. It will give people an opportunity to feel into activities they might want to continue when lockdown does lift, though we will be keeping an online timetable running."

Health Practitioners have come together from across the region to offer the activities which include Restorative Yoga for Pain Relief, Breathing for Awareness, Laughter Yoga and Trauma Sensitive Yoga for Chronic fatigue and Fibromyalgia including long Covid.

A current member of the Friends of Shanti Bee health scheme commented, "I actually don't know where I would be without Shanti Bee. I've met such lovely people I will stay in touch with and I can't wait to be able to get to a class in the centre."

The criteria for registration is that you are managing a chronic, physical or emotional health issue or due to financial restrictions are unable to access well being courses and this scheme would help with this. It's easy to register for the scheme on the Shanti Bee website or you can contact the company directly.

The scheme also invites organisations working towards common goals in the region to join and will be offering bespoke courses designed for staff at organisations in the health and provisions industry.
Find out more about / Apply for Friends of Shanti Bee
Already a Friend of Shanti Bee? Login here to book as many courses as you wish!
3rd
Yoga for Focus
with Nicky
1/2
17:00-18:00


5th
Breathing Techniques for Relaxation with Rosie


10:00-11:00


6th
Meditation for Healing Overview with Jambo
15:30-16:30

followed by

Q&A Holistic Approach to Managing Health Chronic Pain
with Jambo
16:30-17:30

8th
Gentle Yoga for Chronic Fatigue, Fibromyalgia Long Covid
with Sally 1/4
11:00-12:00


9th
Floor Based Restoritive Yoga
with Amanda 1/4
11:00-12:00
--------
Stretch & Sing Workshop with Becca & Sarah
13:00-14:00

10th
Breathe Better
with Manos 1/4
18:30-19:45


13th
Laughter Yoga
with Jackie
10:00-11:00

15th
Gentle Yoga for Chronic Fatigue...
with Sally 2/4
11:00-12:00


16th
Floor Based Restoritive Yoga
with Amanda 2/4
11:00-12:00
--------
Stretch & Sing Workshop with Becca & Sarah
13:00-14:00

17th
Breathe Better
with Manos 2/4
18:30-19:45


22nd
Gentle Yoga for Chronic Fatigue...
with Sally 3/4
11:00-12:00
--------
Teen (14-20) Relaxation Yoga
with Rosie
18:30-19:30


23rd
Floor Based Restoritive Yoga
with Amanda 3/4
11:00-12:00
-------
Art Yoga Therapeutic Session with Becca
13:00-14:30


24th
Yoga for Focus
with Nicky
2/2
17:00-18:00
------
Breathe Better
with Manos 3/4
18:30-19:45


28th
CBD Q&A
with Dylan
16:30-17:30

29th
Gentle Yoga for Chronic Fatigue...
with Sally 4/4
11:00-12:00
--------
Laughter Yoga
with Jackie
18:30-19:30


30th
Floor Based Restoritive Yoga
with Amanda 4/4
11:00-12:00


31st
Breathe Better
with Manos 4/4
18:30-19:45